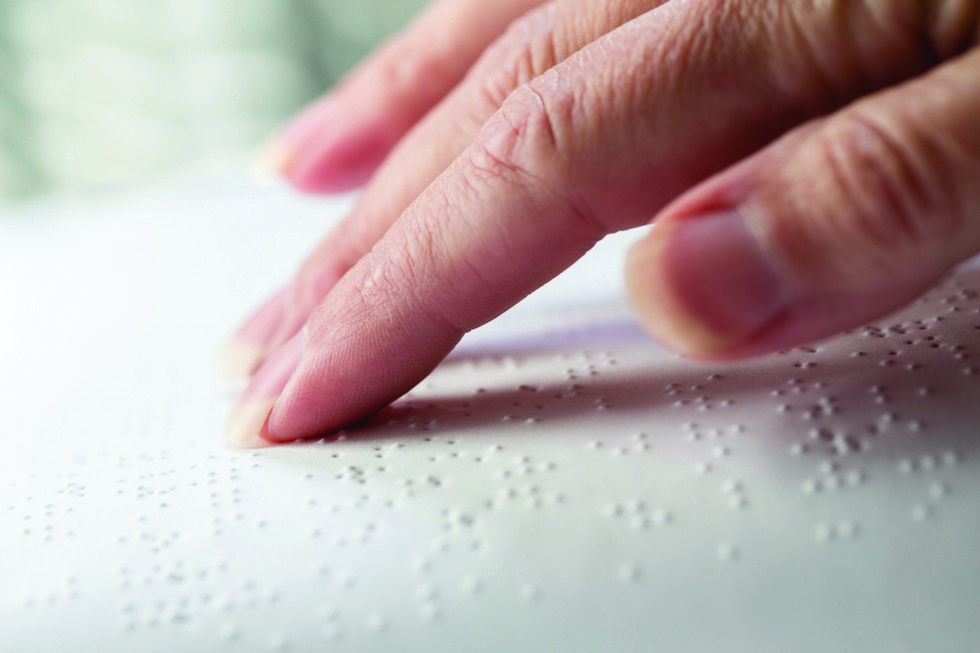 ACCESSIBLITY FOR VISUALLY IMPAIRED
High contrast characters on extra large display
Combination of lower and upper-case fonts assists partially sighted to distinguish words
Vocal confirmation when buttons are pressed
Voice prompts to guide users
One convex, one concave control button so function can be identified by touch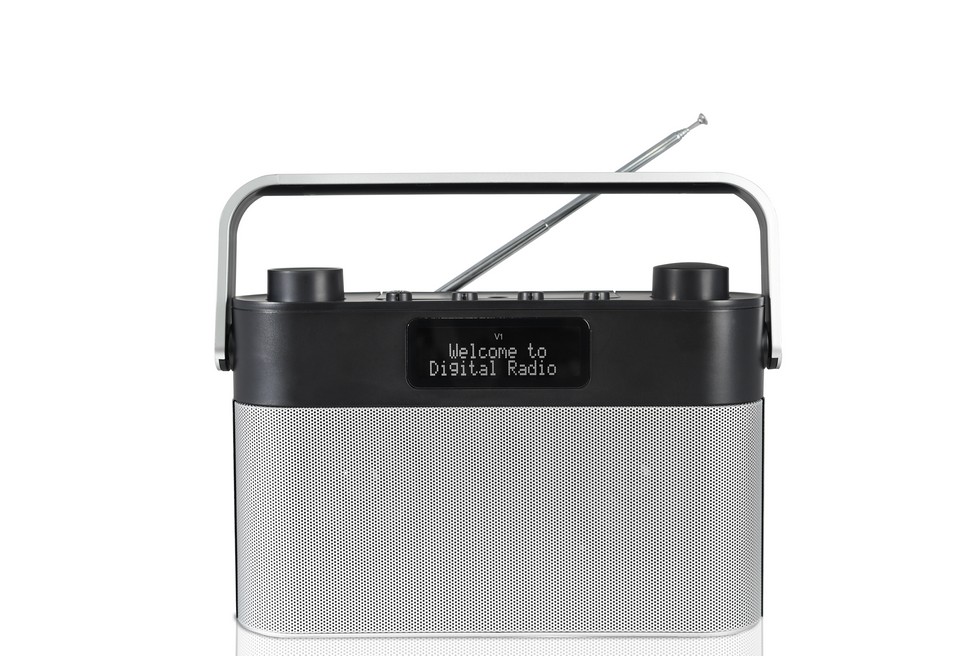 SIMPLE AND INTUITIVE
Large, well-spaced buttons provide unthreatening and intuitive user interface
Only essential control buttons on show – power, tuning, volume and three one touch favourite stations
More detailed buttons for settings concealed beneath flap to avoid confusion
Buttons illuminate to indicate radio preset station that you're tuned to
Main rotaries differentiated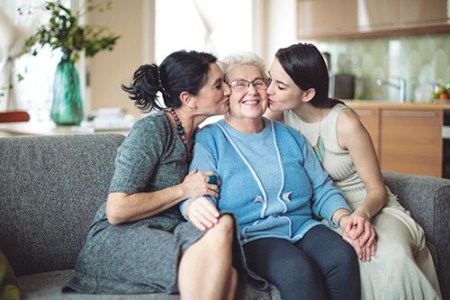 PEACE OF MIND FOR FAMILY MEMBERS
Relative / carer can record personal messages to play at programmed times on a daily basis
Up to 4 different programmable voice messages of 10 second duration
Audible alert warns listener when temperature drops below set levels – reminds user to put heating on when too cold in room
USB can be preloaded with users favourite music and audiobooks by relatives or carers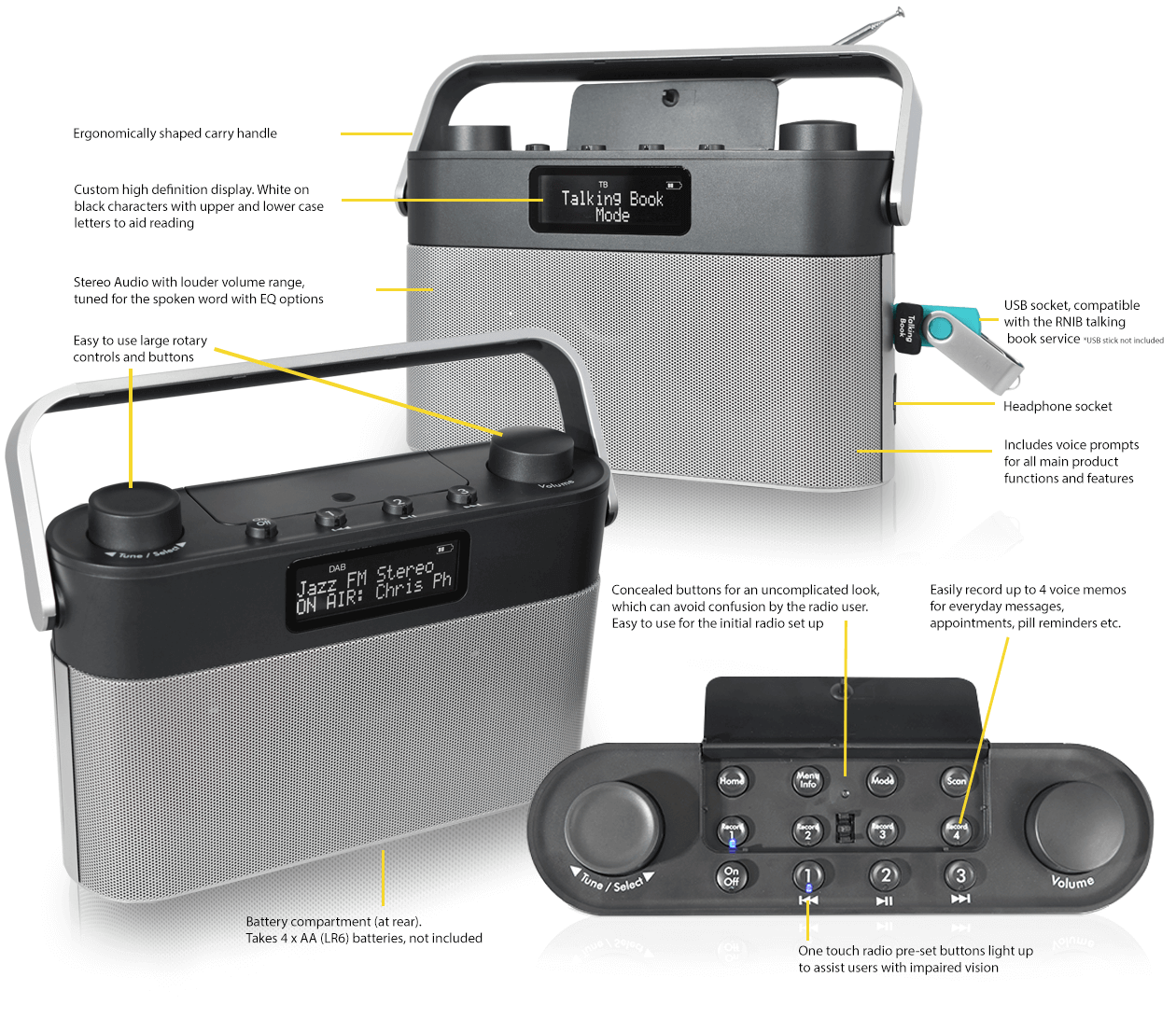 Ergonomically shaped carry handle
Custom high definition display. White on black characters with upper and lower case letters to aid reading
Stereo Audio with louder volume range, tuned for the spoken word with EQ options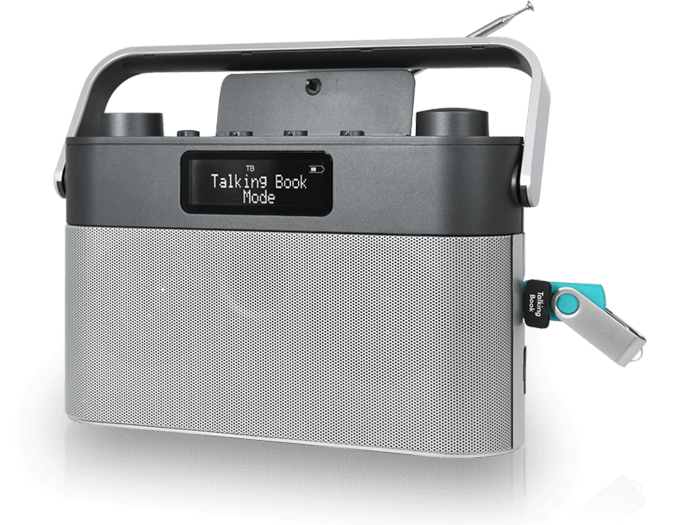 USB socket, compatible with the RNIB talking book service *USB stick not included
Includes voice prompts for all main product functions and features
Easy to use large rotary controls and buttons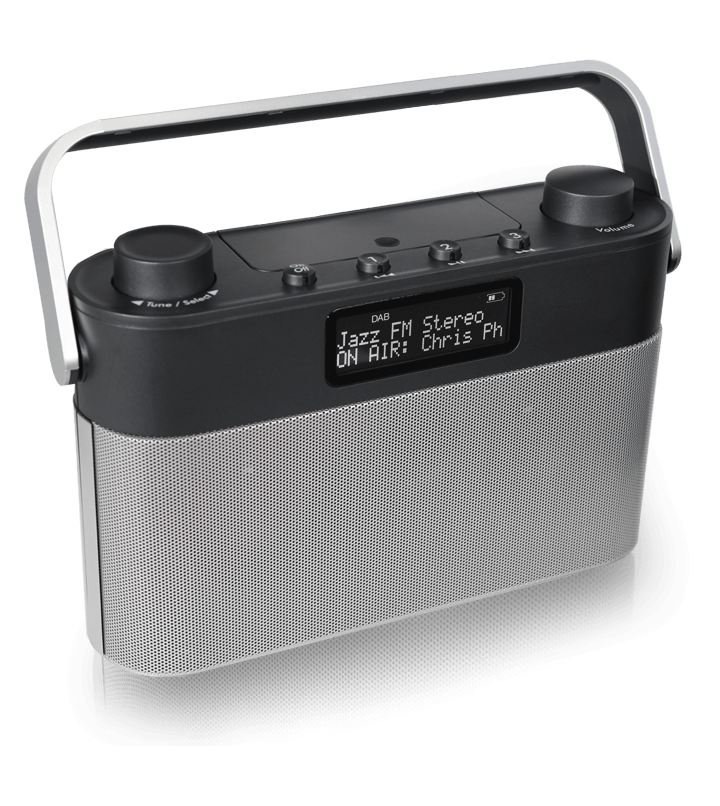 Battery compartment (at rear).
Takes 4 x AA (LR6) batteries, not included
Concealed buttons for an uncomplicated look, which can avoid confusion by the radio user. Easy to use for the initial radio set up
Easily record up to 4 voice memos for everyday messages, appointments, pill reminders etc.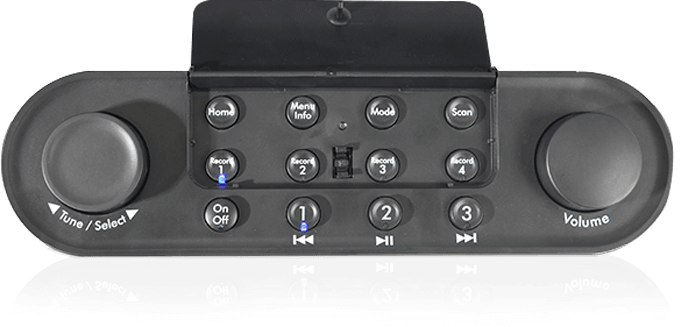 One touch radio pre-set buttons light up to assist users with impaired vision
JANE BENNETT, BILLERICAY ESSEX
5 / 5 STAR RATING
An Absolute Godsend
I think this radio is an absolute Godsend. So easy to use and the added bonus of hearing my daughter in law's voice every day reminding me to do all the things I've forgotten to do!
ANDREW PETERS, BECKENHAM KENT
5 / 5 STAR RATING
Great sound, nice easy to read display
I bought this to replace my old Revival transistor radio which I loved. Never thought I'd say it but this is so much better. Great sound, nice easy to read display, and loads of really useful features that help with day to day living, like the temperature alert which tells me when it's too cold.t.
SIMON COOMBS, WATFORD HERTFORDSHIRE
5 / 5 STAR RATING
Great Easy Use DAB Radio
I bought this for my parents who are getting on a bit and not good with technology. They love it , particularly the lack of buttons that make it so easy to operate. They spend all day in the kitchen listening to talking books via the usb plug in.
JAMES DAVID, BODMIN CORNWALL
5 / 5 STAR RATING
Excellent
This is a proper radio with excellent reception which isn't easy where I live. I love the old fashioned knobs for tuning and volume and it even talks to me when I change the settings. Brilliant!
AM FROM UK
5 / 5 STAR RATING
Great Easy Use DAB Radio
Bought this as a gift for my mum who is partially sited and finds small buttons tricky. I've set this up with her fave radio stations on the top buttons and she is finding it really simple to use. I would thoroughly recommend it to anyone who often finds small electronics/gadgets difficult to see or use as once set up (which was also easy) it is simple. Sounds is good and clear too.
NOZZA FROM WIRRAL
5 / 5 STAR RATING
Easy Setup and Controls
Bought this for my elderly mother who finds it difficult to manage any complicated controls. This was perfect for her needs with simple setup and straight forward access to her three favourite channels by the press of a button. My mum loves it.
COLIN FROM HAVANT
5 / 5 STAR RATING
Easy to Use
Easy to use ideal for a visually impaired person.
MARK05726 FROM WALES, UK
5 / 5 STAR RATING
Excellent
Bought this for an elderly relative. I set it up, programmed the quick access buttons etc within 5 minutes. Extremely easy to operate, sound is great (volume easily loud enough even for those hard of hearing). Nice design, good price. Couldn't be happier.
MIFFY FROM GRIMSBY, UK
5 / 5 STAR RATING
Radio Exactly as Described
Bought for my elderly parents who find it easy to use and with good quality of sound.
JANE706
5 / 5 STAR RATING
Great Little Radio
I love this radio. It is exactly what I was looking for and the sound quality for the price is very good